RECRUITMENT AGENCY
Personalhuset Search & Selection is a recruitment agency that offers services in the recruitment and selection of managers, specialists and employees to permanent positions. We are one of the Nordic region's leading recruitment and staffing companies,

and has experienced and highly qualified employees with local affiliation. We provide our recruitment services through Personalhuset Search & Selection.
OUR RECRUITMENT CONCEPTS
Tailor-made for the individual customer's needs
We offer:
Announced recruitment process
Search
Combined recruitment process with advertising and search
Assessment of external or internal candidates
Background Check
Management of major recruitment projects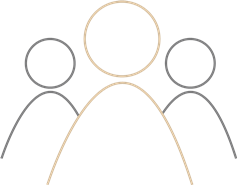 WHAT IS SEARCH & SELECTION
What is most important in a recruitment process? And what exactly is Search & Selection?…

Let our talented senior adviser, Julie Hammer in Personalhuset Search & Selection, tell you what it is all about.

OUR RECRUITMENT ADVISORS
Our advisors serve the entire country and have several types of expertise and work together to ensure that you as a customer get the approach today's market requires.